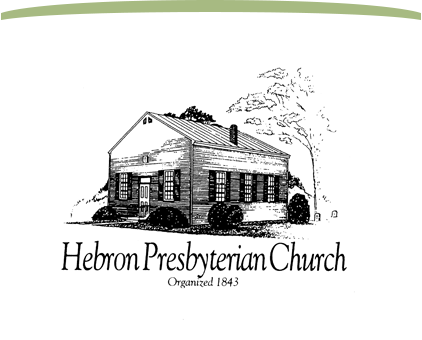 A Historic Church with a Living Mission
Pastor's Blog
Monthly Letter
To Bear Witness
July 19, 2018
It's been downright pleasant the past few mornings here in Goochland County, as our daily highs have dropped from the 90's back down into the 80's. Autumn and cooler weather will be upon us before we know it, so I trust you are finding ways to enjoy these beautiful summer days. The longer daylight hours provide a chance for a change of pace, if we can keep that opportunity before us and not get bogged down in the ongoing obligations of our daily lives.
When I arrived to be your pastor at Hebron Presbyterian Church, in the dead of winter, I came with a list of "clear goals" that I wanted to keep close to mind as I learned to know you and love you, and to look forward with you to the future of the congregation in this community. At the top of the list are the words, "How can I help you bear witness?" As I reflect on my list of goals, five months into this pastorate, that question is still at the top of my list. Nearly everything I do here at Hebron is tethered to that goal of enabling, and equipping, and encouraging you to "bear witness." What does that mean? Most importantly, we bear witness to the goodness and the grace brought into our lives by the love of God in Jesus Christ. But we also bear witness to the presence of Christian community at Hebron Church, to our love for one another that is enabled by our faith in Christ; and to the ability of the Holy Spirit to extend that godly love beyond our own congregation. We bear witness to God's desire and ability to "extend our borders," as a popular book described it a few years ago.
So, what would it look like for God to "extend our borders" at Hebron Church? One thing that comes immediately to mind is the opportunity we have to include more of our friends, family and acquaintances in Sunday worship. We don't have to think of every person we know as a potential "member" of Hebron Church in order to invite that person to enjoy worship with us on Sunday morning; though we should think especially about those we know who don't attend church elsewhere. Our average Sunday worship attendance so far this year is just under 70 people. Our sanctuary can accommodate twice that many; so without having to do another thing, we could enfold 70 more souls into the worship of Hebron Church on Sunday mornings. How blessed it would be for someone without a church home to come to know the love of the Lord and the fellowship of Hebron Church. Whom do you know who could be one of those 70 people?
On a personal note, my mother and sister are visiting this weekend, and will be in worship with us this Sunday. I'll point them out to you, and I hope you'll make them feel welcomed, as you always do with those who find their way through our church doors.
See you Sunday!
Connie Weaver
Pastor
This Sunday, July 22nd – Members of our youth mission team will bring the message, following their work this week in Pikeville, Kentucky. Our youth team and their adult leaders have been busy cleaning and painting at an emergency shelter, purchasing small appliances and restocking supplies from your gifts to the Souper Bowl of Caring offering, and preparing meals for shelter residents. They've also been leading a Vacation Bible School at a local church, and as I write this (on Thursday), they are carrying out their Shoes of Hope project. Please come to worship this Sunday so you can welcome them back, hear what they have to say to us, and tell them how proud you are of their work in the name of our Lord.
Also this Sunday – Deborah Huish will be returning to worship at Hebron, to join Markus Compton in providing special music for our service.
Sunday, July 29th – We'll begin a summer sermon series on the New Testament letter to the Ephesians, which will run through Labor Day Sunday, Sept. 2nd.
Summer Choir Sundays – August 19th & 26th, and Sept. 2nd, will be "Summer Choir" Sundays at Hebron Church. That means you can come and rehearse during the Sunday School hour (at 9:00 a.m.) and sing with the choir that day, even if you are not a regular choir member. We hope many of our "regulars" will be here to sing on those days, as well. Summer Choir is open to youth and all adults who want to help "make a joyful noise" on these Sundays.
Clean-up Day – Summer is rolling along and it will soon be time for our Day School students and teachers to return to Hebron. With an eye toward the start-up of Day School, our deacons have set a "clean-up and mulch day" for Saturday, August 25th. Please pencil this day on your calendar, and plan to help, if you can. Work will commence at 9:00 a.m. and go until about noon.
Speaking of our Day School, there are still spaces available for the coming school year. So if you know a child who could benefit from attending our Day School, please direct his or her parents to our church website: www.hebronpresbyterian.com for registration information.
Heritage Concert, Friday, October 19th - As part of our 175th anniversary heritage celebration, there will be a concert on the Friday evening before our Heritage Sunday, featuring the Hebron Boys and other musical guests.
Heritage Sunday, October 21st – Hebron Presbyterian's 175th "birthday" as a congregation will be celebrated with a special service of worship and a luncheon to follow. Our guest preacher will be the Rev. Walter Mann.