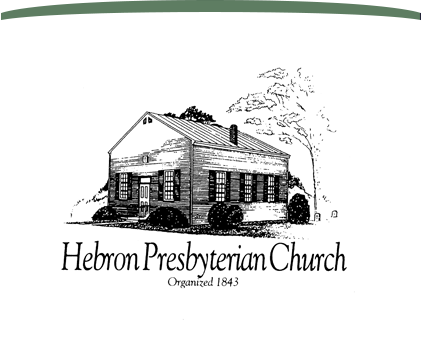 A Historic Church with a Living Mission
Core Values
Who We Are
Hebron is a Christian Church. Jesus is the Savior, the Way, the Truth and the Life. We believe that Jesus Christ is the only way to Salvation. We believe in the Triune God: Father, Son and Holy Spirit.
Hebron is a Biblical Church. We believe in the authority of Scripture as the inspired Word of God and hold to the Reformed belief of "Sola Scriptura" (Scripture is the supreme authority in all matters of doctrine and practice).
Hebron is a Loving Church. We seek to love God above all, and our neighbor as ourselves, as commanded by God.
Hebron is a Mission-Driven Church. Our mission is to spread the Word of God, using our time, talent and treasure, in our community, our state, our nation and the world. God commanded us to go out into the world and make disciples. We seek to do this by deed and example.
Hebron is a Welcoming Church. Our doors are open to all who wish to learn about Jesus Christ. Our membership is open to all who profess faith in Jesus Christ and strive to follow His teaching.
Hebron is an Honest Church. We freely admit that we are all sinners in the need of God's saving Grace. Repenting of our sins and striving to live a principled Christian life is a part of our worship.
Hebron is a Respectful Church. Our members represent a variety of Christian theological backgrounds.
Hebron is a Historic Church. Believers have been worshiping at Hebron for almost 175 years.