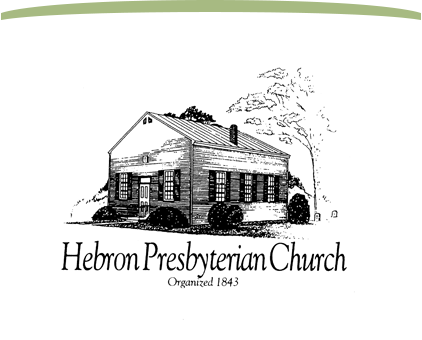 A Historic Church with a Living Mission
Pastor's Blog
Monthly Letter
No Temple? No Problem!
October 11, 2018
As I'm writing this, the thunder is rumbling outside, and the devastation being left by this week's Hurricane Michael is on many of our minds. The pictures coming out of Florida are shocking, even unbelievable; but to those dealing with such unimaginable loss, the circumstances are very real. Whole neighborhoods and city blocks in some areas have been torn to shreds. There are surely many church buildings that have been damaged or destroyed by this horrible storm. Imagine driving down Shallow Well Road and seeing our own Hebron Church flattened to the ground! What an awful sight that would be! I hope we never have to see anything like that at Hebron. But our hearts go out to those church members who must begin to recover their church buildings even as many are also having to recover their own homes and businesses.
When I was a child, our pastor commented during a sermon that "even if this building burned to the ground, Dotson Memorial Baptist Church would still exist, because the church is the people." There aren't many things from Pastor Gann's sermons that I remember that specifically, but that statement stuck with me. I've seen that idea carried forth in a couple of other places, recently. One was at a presbytery Small Church Forum that the church treasurer and I attended last Saturday, in which a participant asked a presenter why they kept referring to church property as a "campus." The presenter, who is a representative of the Presbyterian Foundation, replied that they are intentional about not referring to buildings and property as "the church," because "the church" is the people of the congregation.
A second place I saw this idea recently was in a devotional reading from These Days. I confess to getting behind sometimes on my devotional reading, so this was a reading dated several weeks ago. The writer referenced a verse from Revelation, in the New Testament, referring to the New Jerusalem; "I saw no temple in the city, for its temple is the Lord God the Almighty and the Lamb. And the city has no need of sun or moon to shine on it, for the glory of God is its light, and its lamp is the Lamb." (Rev 21:22-23) The title of the devotional reading was, "No Temple?" I immediately thought, "No Temple? No Problem!" While this passage from the Revelation is referring to the presence of God, it applies to God's people, as well. Our physical church spaces are a gift from God, and are to be cared for and enjoyed as the centers of our life together. But ultimately, the Church is its people, in the presence of our Savior, Jesus Christ.
I'm so glad you are reading this, because as you seek to be in fellowship with God through your connection to Hebron Presbyterian Church, you are part of the people who make up our church. Whether you worship with us, or elsewhere, by your interest in what is happening at Hebron, you add to the life of this congregation. Pray for us. Pray that the people of Hebron Presbyterian Church will live into the purposes for which God has placed us here in this community, at this time in history. And pray for those who have seen their church "campus" destroyed or damaged by weather, warfare or the vandalism of their enemies. Pray that they will be kind, courageous and filled with hope, as they, the people, place their trust in our Lord.
There are many good ways to help those who have experienced loss as a result of recent natural disasters. One of those is by giving through Presbyterian Disaster Assistance, at www.pda.pcusa.org. Another is by volunteering for a recovery work crew. Our Presbytery of the James has a work crew right now in New Bern, NC, following Hurricane Florence, and will sponsor another crew to New Bern the week of November 11th-16th. You can inquire about that trip by emailing Brown Pearson at cbpearson3@erg-homes.com, or calling him at 804-347-8895.
The sermon text for this Sunday, October 14th, will be Matthew 26:36-46. This is the story of Jesus' prayers in the Garden of Gethsemane, prior to his arrest and crucifixion. This will be the sixth in a series of sermons on prayers in the Bible. This will be our first Sunday to use our new Glory to God hymnals. We extend thanks to the many who contributed toward the purchase of our new hymnals and pew Bibles.
This Sunday, October 14th, will also be our Stewardship Commitment Sunday. Those of you who are on our mailing list will have received a stewardship packet in the mail, with a pledge card. We hope you'll give prayerful consideration to your giving plans for Hebron Church in the coming year. You'll be invited to bring your pledge card forward during the time of offering this Sunday. You may mail your card to the church if you don't expect to be at worship this Sunday; 1040 Shallow Well Road, Manakin-Sabot, VA 23103, to the attention of Treasurer.
On Wednesday, Oct. 17th, Ronnie Nuckols will be giving a report on his recent mission trip to Niger, where our church is in partnership through the work of Frontier Fellowship. This will be in lieu of our regular Wednesday night study. Your pastor will be at the Wee Kirk (Small Church) Conference at Montreat, Oct. 15th-17th. Come to Holman Hall at 5:45 p.m. to enjoy dinner with your Hebron friends ($5 per person), then stay for Ronnie's informative presentation.
Remember our concert next Friday, Oct. 19th, which is part of our 175th anniversary celebration at Hebron. We'll host a concert in our sanctuary featuring the Hebron Boys bluegrass group; a classical trio of banjo player John Bullard, violinist Treesa Gold and pianist Markus Compton; and Hebron youth musicians Julia and Grace Kistler. We'll round out the evening with a hymn-sing using our new hymnals. Refreshments will be served in Holman Hall following the concert.
Then Sunday, October 21st, is our big day of celebration! The Rev. Dr. Walter Mann will be our guest preacher that day, and our choir will be singing a new anthem specially commissioned for our 175th anniversary. Following worship, we'll enjoy lunch together in Holman Hall.
See you Sunday!
Connie Weaver
Pastor