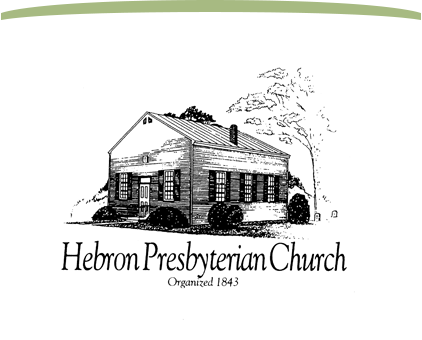 A Historic Church with a Living Mission
Pastor's Blog
Monthly Letter
News & Updates
September 07, 2018
Greetings from your pastor! I hope your week is treating you well. Please take a few minutes to look over these announcements and updates about life together at Hebron Presbyterian Church:
The sermon text this Sunday, September 9th, is Genesis 3:8-21. The sermon title is, "In the Garden with God." This will be the first Sunday in a series on prayers in the Bible.
Children's Worship – This Sunday, Sept. 9th, we'll begin fall Children's Church for kids aged 4 through 2nd grade. Children will begin worship in the sanctuary and then be dismissed with Children's Church leaders after the "Drawing Near to the Word" portion of our service. Sunday evening Youth Activities will also resume on Sept. 9th.
New this Sunday – After enjoying and observing worship for several months here at Hebron Church, I've decided in consultation with other staff to introduce a new Affirmation of Faith to our Sunday service. This contemporary affirmation was adapted from one used by the Presbyterian Church in Canada, and has been enjoyed, learned and loved for many years by members of my former congregation in North Carolina. This will not replace the Apostles' Creed on communion Sundays. On non-communion Sundays, this new affirmation will follow our final hymn, and I hope it will become a familiar and meaningful part of your departure from worship each Sunday.
Stewardship Kick-off September 9th - We seek to be good stewards of God's gifts all year long, but on Sept. 9th, we'll kick off our annual stewardship emphasis. This will be a time to give prayerful consideration to your giving plans for 2019. Dedication Sunday will be October 14th.
There's still time to share your memories about Hebron Presbyterian Church, in preparation for our Heritage Celebration. Megan Compton will be in the Ralph Fields room after worship again this Sunday, to videotape your "memory" about being part of this congregation. There is a sign-up schedule on the office door, but please come on down if you are ready to share a memory this Sunday. These brief recordings of your special memories will be shown during our 175th Heritage weekend in October.
Prayer for Schools - After worship this Sunday, Sept. 9th, you're invited to meet in the parking lot following worship, to be part of School Prayer Carpool to our local public schools. We'll divide in to groups and travel to Randolph Elementary School, Goochland Middle School and Goochland High School. We'll find a place to pray, and ask God's blessings and protection on all who will study and serve at our local schools during this coming year. We recognize that other schools are represented in our congregation, and all area students, teachers and administrators will be included in our prayers.
Memorial Service – The family of Nancy Amos has planned a memorial service on Saturday, Sept. 13th, at our church cemetery. The service will be at 10:30 a.m., and all who wish to attend may do so. Nancy was active at Hebron Church until a few years ago, when her family moved her to Charlotte. There will be a visitation in Holman Hall after the service, with refreshments provided by the family.
New Hymnals & Bibles – As part of our upcoming 175th birthday celebration for Hebron Church, you have the opportunity to sponsor a new Bible & hymnal set for the sanctuary, including (if you choose) to have your name or the name(s) of others noted inside the book. There will be an insert in this Sunday's worship bulletin. You may also contact the church office to have a form emailed to you. Please plan to complete your form and return it with your $25 (per set) payment by Sept. 23rd.
Niger Presentation – Elder Ronnie Nuckols has agreed to provide us with a presentation on his recent Niger trip on Wednesday, Oct. 17th. We'll pause our regular WNS study so that we can hear from Ronnie that evening.
Wednesday Night Special – Beginning October 3rd, we'll enjoy a weekly meal together through mid-November. Our study this fall will be taken from a book called Concentric Circles of Concern by Oscar Thompson. The "concentric circles" concept helps us look at how we talk about our faith in the context of our personal relationships. If you would like a copy of the book, please let us know in the church office, and we'll order one at a cost to you of $11.00. It won't be necessary to have read the book to participate in the study, but your appreciation of the material will be enhanced if you've had a chance to read the book.
Heritage Concert, Friday, October 19th - As part of our 175th anniversary heritage celebration, there will be a concert on the Friday evening before our Heritage Sunday. There is more info on this event in our September church newsletter.
Heritage Sunday, October 21st – Hebron Presbyterian's 175th "birthday" as a congregation will be celebrated with a special service of worship and a luncheon to follow. Our guest preacher will be the Rev. Walter Mann.
Our Operation Christmas Child "Packing Party" is set for Friday, Nov. 2nd. Watch for more details, and in the meantime, pick up a few more items to place in the tubs in the hallway outside Holman Hall. Thanks so much for all you've donated so far!
Daylight Savings Time ENDS on Sunday, Nov. 4th. Be sure to change your clocks Saturday night before you go to bed, in order to "Fall Back" an hour on Sunday, Nov.4th.
See you Sunday!
Connie Weaver