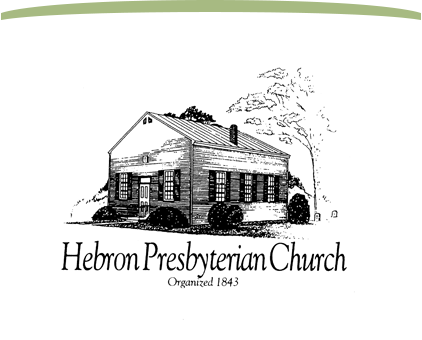 A Historic Church with a Living Mission
Pastor's Blog
Monthly Letter
Jesus Rescues
June 29, 2018
Greetings! It's been quite a week at Hebron Presbyterian Church. We've just wrapped up another wonderful Vacation Bible School. How I know it was "wonderful" is that by the middle of the week, kids were easily and excitedly leaving their parents right after check-in, to make their way to Holman Hall for the beginning of the VBS day. Under the capable leadership of our Director of Christian Education, Lori Alford, and a team of volunteers too large to name here, 48 precious children heard the gospel of Jesus Christ, learned about Christian mission, played games, ate great snacks, learned terrific songs, and did all kinds of other fun things during this special five days at Hebron. As your pastor, I am deeply grateful for all the time, energy, imagination and love, from so many people, that made our Vacation Bible School such an enjoyable experience for these children from our community. They learned that "Jesus Rescues" us in all kinds of situations in our lives, and my prayer is that they will carry that message with them for the rest of their lives. Thank you!
Connie Weaver
Pastor
This Sunday, July 1st - The sermon text will be from 1st Samuel 24. The sermon title is "Into Merciful Hands." This is the story of how David spared the life of King Saul in a cave. This is a "summer choir" Sunday, so the choir will be gracing us with an offertory anthem, and we'll also celebrate communion together.
Next Sunday, July 8th Luncheon - This will be a special day, as we welcome the Rev. Maiki Kadade to worship. He won't be preaching, but he'll bring greetings from the Evangelical Church of Niger. Then following lunch in Holman Hall, he'll update us all on the work in Niger that our church helps to support. About lunch: You are invited to bring a hearty "finger food" (hors d'oeuvres) to share for a light summer lunch.
Youth Mission Send-off – Our youth mission team will depart early on Sunday, July 15th, for their work in Kentucky. You are welcome to arrive early that day (8:20 a.m.) to be part of the circle during our send-off prayer for our youth and their adult leaders. You can still give to the "Shoes of Hope" offering to help our youth team carry out a project in Kentucky to provide new shoes for kids.
Clean-up Day – Our deacons have set a "clean-up and mulch day" for Saturday, August 25th, in preparation for the fall return of our Day School students. Please pencil this day on your calendar, and plan to help, if you can. Work will commence at 9:00 a.m. and go until about noon.
Speaking of our Day School, enrollment is open for this great preschool program at Hebron. If you know a child who might benefit from attending our Day School, please encourage parents to enroll their child. Information is available on our church website, www.hebronpresbyterian.com.
Wednesday Night Special dinners and programs are scheduled to begin October 3rd and run through November 14th. At this early date, schedule changes could still occur, but please make note of this on your calendar. The final WNS program on Nov 14th will be a special Service of Thanksgiving.
Heritage Concert, Friday, October 19th - As part of our 175th anniversary heritage celebration, there will be a concert on the Friday evening before our Heritage Sunday. Watch for more details!
Heritage Sunday, October 21st – Hebron Presbyterian's 175th "birthday" as a congregation will be celebrated with a special service of worship and a luncheon to follow. Our guest preacher that day will be the Rev. Walter Mann.
See you Sunday!