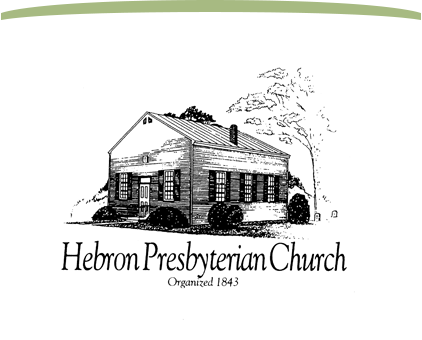 A Historic Church with a Living Mission
Pastor's Blog
Monthly Letter
A Visit Over Coffee
June 22, 2018
Greetings!
Just a few months before coming to Hebron, I wrote a sermon entitled, "What is the Purpose of Prayer?" It was part of a series of sermons preached on the "Tough Questions" that people ask about God and the Christian life. Maybe I will preach a sermon on prayer sometime at Hebron. In the meantime, I want to say here that Christian prayer is first and foremost the basis of a relationship. Because prayer is such an important part of our lives of faith, we have deep questions about it. "How do I pray?" "Why do some of my prayers seem to go unanswered?" "Doesn't God already know everything, anyway?" If we see prayer primarily as a means of communicating our needs to God, then we'll be disappointed. But if we understand prayer as the basis of a relationship with the Creator of the Universe, then we'll more fully experience the benefits of prayer. Prayer is less like a shopping list, and more like a visit over coffee! That doesn't mean that we don't make our needs and desires known to God. But it does means that our petitions to God take place in the context of a relationship with God that is built on prayerful moments when we are not asking anything of God. We thank God, we acknowledge God's goodness and sovereignty, and we stop talking altogether sometimes so that we can listen for God to talk back to us.
As part of our Vacation Bible School program this coming week, the makers of our Shipwrecked themed materials suggest ways for us to pray for those who'll be involved in our Vacation Bible School. You'll find those suggestions in your bulletin this Sunday, and I've highlighted them, below. As you consider these and other prayer concerns, I invite you to first "sit with God" for a few moments and ask God to direct you how to pray. You might be surprised how God directs your prayers in ways you couldn't imagine on your own! Then be sure to say "thanks" to God for the wonderful opportunity we have at Hebron to welcome the souls of children into our midst for Vacation Bible School.
Pray that God will prepare the hearts of the children who'll be with us for VBS.

Pray that positive relationships will develop among the children and with adult leaders.

Thank God for the families in which these children live, and for others who may be bringing them to VBS at Hebron.

Pray for the wisdom of volunteers as they are leading, teaching and ministering to the children in our VBS.
Many thanks, in advance, for your prayers!
A few other announcements:
This Sunday, June 24th – The sermon text will be from 1st Samuel 17. This is the story of David, and the Philistine giant, Goliath. The sermon title is, "An Unlikely Outcome." We'll be blessed with special music again this Sunday. Carol Dunlap will join Markus Compton at the piano for our Prelude during worship. We'll also be commission our VBS volunteers this Sunday.
July 8th Luncheon –
Sunday, July 8th, will be a special day, as we welcome the Rev. Maiki Kadade to worship. Though he won't be preaching, he'll bring greetings from the Evangelical Church of Niger. Then following lunch in Holman Hall, he'll update us all on the work in Niger that our church helps to support. About lunch: You are invited to bring a hearty "finger food" (hors
d'oeuvres
) to share for a light summer lunch.
Youth Mission Send-off –
Please remember our youth mission team in your prayers! They will depart early on Sunday, July 15th, for their mission work in Kentucky. You are welcome to arrive early that day (8:20 a.m.) to be part of the circle during our send-off prayer for our youth and their adult leaders. You may also help our youth mission effort by contributing to the Vacation Bible School offering which will enable a "Shoes of Hope" event during their mission trip (see details in Sunday's bulletin).
Clean-up Day –
Our deacons have set a "clean-up and mulch day" for Saturday, August 25th, in preparation for the fall return of our Day School students. Please pencil this day on your calendar, and plan to help, if you can. Work will commence at 9:00 a.m. and go until about noon.
Wednesday Night Special
dinners and programs are scheduled to begin October 3rd and run through November 14th. At this early date, schedule changes could still occur, but please make note of this on your calendar. The final WNS program on Nov 14th will be a special Service of Thanksgiving.
Heritage Sunday, October 21st – Hebron Presbyterian's 175th "birthday" as a congregation will be celebrated with a special service of worship and a luncheon to follow. Our guest preacher that day will be the Rev. Walter Mann.
Operation Christmas Child
November will be here before we know it, and it will be time to pack "shoeboxes" for Operation Christmas Child. In order to pack many boxes for this important ministry, we collect items all year. Please take note of items being collected (it's in the Sunday bulletin each week) and contribute suggested new items as you can. There is a collection bin in the hallway at the church. This month's items are sunglasses, flip-flops and bandanas, for children aged 2 to 14.