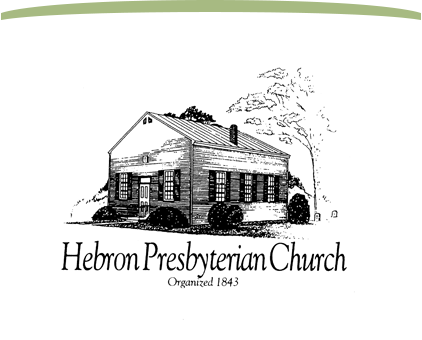 A Historic Church with a Living Mission
Pastor's Blog
Monthly Letter
Seven Last Words
March 29, 2018
Greetings! I hope this week is going well for you all. I'm sending a reminder of our Maundy Thursday service this week, March 29th, at 6:30 p.m., here at Hebron Presbyterian Church. You're encouraged to come to experience the events in the life of Jesus during the days leading up to his crucifixion. We'll do that through Scripture and song, and by remembering the Seven Last Words of Christ as we close the service.
The word "Maundy" derives from a Latin word from which we also get our English word "mandate." In its context for Maundy Thursday, it refers to Jesus' commandment to his disciples shortly before his death, that they should love one another as he has loved them:
"I give you a new commandment, that you love one another. Just as I have loved you, you also should love one another. By this everyone will know that you are my disciples, if you have love for one another." (John 13:34-35)
Because we do not also have a Good Friday service at Hebron, we incorporate the story of Christ's death into our Maundy Thursday observance. This year, we'll end the service with the Seven Last Words of Christ. These are actually short phrases taken from the Gospels, reflecting the words of Jesus during his final hours on the cross. In case you are not familiar with these, I want to share them with you, here. They'll be more meaningful to you during the service if you've had a chance to reflect on them beforehand:
The Seven Last Words of Christ
"Father, forgive them, for they do not know what they are doing."
Jesus understands that those carrying out his crucifixion do not grasp the enormity
of what they are doing, and he asks that they be forgiven.
"Truly, I tell you, today you will be with me in Paradise."
These are the words Jesus spoke to a thief crucified next to him, who recognized
Jesus as a guiltless man, and who asked to be remembered by Jesus.
"Woman, here is your son."
"My God, my God, why have you forsaken me?"
Matthew 27:46 & Mark 15:34
In the hour of his deepest anguish, Jesus echoes the words of the psalmist (Psalm 22),
who also felt abandoned by God in his distress.
Fully human, as well as fully divine, Jesus experienced the need for a drink of water.
Jesus understood that in the midst of his pain and suffering, God's will had been accomplished.
"Father, into your hands I commend my spirit."
Despite feeling abandoned by God when the full weight of the world's sin was heavy upon him,
Jesus departed from his earthly existence with a final shout of trust in God.
So, reflect on these words of Christ, as you prepare your heart for the celebration of Easter. I hope you'll be able to join us for Hebron's Maundy Thursday service. You may come just for the service at 6:30 p.m., or you may also join us for dinner before the service, at 5:45 p.m. in Holman Hall. You're encouraged to bring a side dish to share, but if you forget or don't have time to prepare a dish, please come, anyway. We want you with us.
On Easter Sunday, we'll have two services of worship. The first will be a joint service with Dover Baptist Church at 7:00 a.m.

at Dover Baptist Church on Manakin Road.

This is Dover Baptist's year to host the early Easter service, and they'll have breakfast ready for us to enjoy following the service. Then at 10:00 a.m., we'll gather for our regular service of worship at Hebron Presbyterian. There will be no adult Sunday School at Hebron on Easter Sunday, but we will have our usual Bible Buddies for kids at 9:00 a.m., and class for preschoolers during the 10:00 a.m. service. There will also be a nursery available for children under aged 2 during the worship service.
Pastor