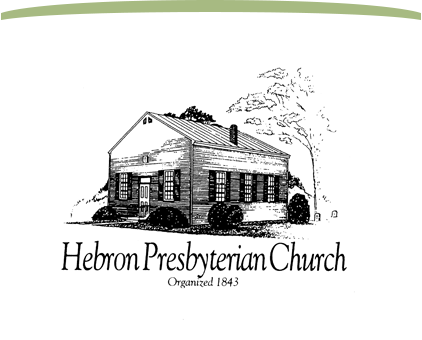 A Historic Church with a Living Mission
Pastor's Blog
Monthly Letter
Annis and Absalom
July 09, 2021
I came across a photo recently of a gravestone for my great, great grandparents, located in a cemetery near Townsend, Tennessee. What is remarkable to me in remembering this gravestone is how long ago this couple was born. Absalom Abbott was born in 1804 and his wife, Annis Stillwell, was born in 1807. There is a reason for this wide span of years between my great, great grandparents and my own generation. They were in their 40's when my great-grandfather, Pleasant, was born. My grandmother was born of a second marriage when Pleasant was middle-aged. My own father was among the youngest of my grandmother's six children, born when she was in her mid-30's. Thus, the span of more than 150 years between the births of Absalom and Annis, and my own.
There is very little I know about Annis and Absalom. Absalom was a teaching elder, a farmer and a mill wright. He and Annis had ten children, and the youngest, my great-grandfather, was a young teenager when Annis died from a snake bite. When I stand in front of a gravestone for relatives like these, who lived so long ago, I wonder if I would have liked them. I wonder if they were truly good people. I wonder if they would have been kind to a stranger. I will probably never know much more about Absalom and Annis than I know right now. Which causes me to wonder, "What will my great, great grandchildren know about me in another hundred years or so?" How do I sort through the detritus of all my "stuff" to leave some record of value to a future generation? If I could write a message to future descendants, what would I say?
I think that Annis and Absalom did leave a message for those of us who would never know them. When Absalom stood to preach in his Primitive Baptist congregation, he probably never imagined that a great, great granddaughter would one day stand to preach in a Presbyterian church. If he had, he likely would not have approved! And yet, I do what I do, partly because of his and Annis' faithfulness. They may not have left a message for me, but they left "the Message" for any of their descendants who would care to hear it - the legacy of a knowledge and love for Jesus Christ.
There's no doubt that their practice of their Christian faith would have looked somewhat different from my own, because as much as we may not like to admit it, the living out of our faith is embedded in our own time and culture. It has to be. But what doesn't change is the essence of the Gospel; that God loves us, that God has come to us in the Person of Jesus Christ, and that God has made a way through Christ for us to be with him, forever. When we accept the good news of this Message, our response should be a grateful ordering of all the aspects of our lives around the celebration of this gift of grace.
We never know how the message of the Gospel will take root and grow in the generations who will come behind us. But we have the responsibility to make sure the Message is not lost to them. Our descendants in the family and in the faith will live as they will, partly as a result of what they see to be important in our own lives. What – or better, yet Who - is at the center of your life, today?
With prayers for your journey,
Connie Weaver